Nail Yakupov's story is, if nothing else, unique.
Five summers ago, his name was called first overall at the NHL draft in Pittsburgh.  Hailed as the consensus top prospect, his raw skills and electric scoring ability were viewed as a boon to the Edmonton Oilers, a team so dreadful that Yakupov represented their third 1st overall pick in the previous three years.
Yet, on July 4, he signed a one-year contract with a club whose point total last season made those Oilers teams from the 2010-12 era look good. Along with Jonathan Bernier, the 23-year-old right wing represents the only NHL free agent acquired by the Avs this summer.
How did such a bright young star fall from grace so quickly?   What is it about his game that has failed to pan out?  And now that they have him, is there any way for Yakupov to help steer the Avs - and his career - back on course?
---
Background:
Early Years
Born in Nizhnekamsk, Russia around 13 hours east of Moscow, Yakupov grew up in the development system of Neftekhimik Nizhnekamsk, the local KHL team.  In 2010, he made the decision to come to North America to further his development, and was drafted second overall by the Sarnia Sting in the CHL Import Draft.
Once there, he joined Alex Galchenyuk - an American citizen who grew up in Russia - as the bright new hope for a club that had just finished dead last in the OHL. Along with an overage Kale Kerbashian, the two rookies led the team in scoring and helped the Sting jump 18 points in the standings.  In fact, Yakupov's 101 points (49 g goals) broke the team's rookie scoring record set by Steven Stamkos in 2006.
The young winger was typically with Galchenyuk off the ice as well.  Galchenyuk's family moved to Sarnia after their son was drafted, and they took in Yakupov as a boarder.  While living with a Russian-speaking family made the transition to North America easier, Yakupov later admitted it made him "shy and lazy" when it came to learning English.
Yakupov's next season was plagued by injuries to both himself and Galchenyuk. He moved into his own place before the start of the season, so he often found himself as the only Russian around.  While it forced him to improve his English, he still struggled with the language heading into his draft summer.
Even at that time, the 2012 draft class was considered fairly weak, but Yakupov's speed and bullseye shot made him the top pick in nearly every mock draft.  Despite finishing his sophomore OHL season with only 42 games played, his 69 points (plus another five in the playoffs) was still enough to convince the Edmonton Oilers GM Steve Tambellini to select him first overall (even though the majority of Oilers scouts disagreed with the decision at the time).
Time in Edmonton
To say the Oilers then were a disaster would be an understatement.  They made a trip to the Stanley Cup Final in 2006, but by 2009, they were one of the bottom 10 teams in the league.  After that, they finished 30th, 30th, and 29th the next three seasons.
Yakupov, along with fellow No. 1 picks Taylor Hall and Ryan Nugent-Hopkins, represented the consolation prizes for those failures.  In the hockey-mad market of Edmonton, the pressure to lead the franchise out of the NHL's wilderness fell on their young shoulders.
Unfortunately, they weren't surrounded by much other talent.  Apart from Nugent-Hopkins, Sam Gagner and Jordan Eberle were Yakupov's most common linemates his first two seasons.  They were replaced by Derek Roy and Teddy Purcell his third year.  Even though Yakupov found a strong amount of chemistry with Roy and felt he benefited greatly from sticking with a single center for most of the year,  Roy's contract wasn't renewed that summer.
"I'd really enjoy to stay with one guy a long time.  That was how it was with Derek [Roy]. But I can't pick my centre." -Nail Yakupov, Sept 2015
In Yakupov's fourth year, he got the chance to play with a true top center in Connor McDavid while Eberle was injured.  The two of them managed to post a 51.9% Corsi and 3.80 goals for per hour (GF/60) together, which was higher than either of their stats when apart.  Unfortunately, the experiment ended when Yakupov was injured by a falling linesman.
By that point, Yakupov's numbers overall had steeply declined from his rookie season.  Hockey critics and scouts questioned his hockey sense and adaptability.  Away from the puck, he skated hard, but didn't know where to go.  With the puck, his shooting percentage continued to plummet below league average.  His possession numbers and defensive game improved, but not enough to make up for his occasional - and very obvious - mistakes.
Ray Ferraro on Yakupov: "I had someone describe his style to me as a guy who looks like he's being chased by bees."

— HabsLinks (@HabsLinks) February 25, 2016
Playing for four different coaches in his four seasons in Edmonton didn't help either.  Each brought in a new system and shuffled the lines, contributing to the inconsistency.  Add in an omnipresent Canadian media and frustrated fans, and it didn't exactly contribute to a positive playing environment.
Yakupov had a particularly difficult time off-ice as well.  He was criticized for not going to dinner enough with his teammates, although as a Tatar Muslim, he likely doesn't drink.  Apart from one game of Bogdan Yakimov and 11 games of Anton Slepyshev, he was the only Russian speaker in the locker room.  He often tried to pay it forward to the homeless of Edmonton, but that didn't overcome the bad press he was now constantly receiving from his play.  Add in the fact he was often criticized for having a personality, and it all added up to a bad situation for everyone involved.
Trade to St. Louis
In March 2016, rumors surfaced that Yakupov and his agent had requested a trade, but nothing happened before the trade deadline or that summer.  On October 6, he played in a preseason game with the Oilers.  On October 7, he was traded to the St. Louis Blues for prospect Zach Pochiro and a conditional third round pick.
This timing meant that Yakupov missed training camp and almost all of the preseason with the Blues.  Unlike Edmonton, St. Louis had an established roster with a strong number of forwards ahead of him in the depth chart.  While Yakupov scored two goals in his first five games, he'd only add one more the rest of the season.  He played more than 12 minutes in only 12 of St. Louis's games, and suited up for only 40 total.  His season ended with a knee surgery in April.
To make matters worse, St. Louis switched coaches mid-season, adding bench boss five and six to Yakupov's five season total.  Even though he was often a scratch under Mike Yeo later in the year, the coach noticed his improvement and effort.
"He's playing with a real purpose. I think his work ethic is very noticeable. Every game right now he's getting involved physically, where he's arriving on the body at certain times of the game. (Monday) for instance you see times in the game where he ends up down low in our zone, where he's the first guy back in our zone and to me that's a sign of his commitment to bear down on the defensive side of the game as well. These are the things that we talked about with him and these are the things that we believe if he has those elements in his game, then the skill part will surface." -Mike Yeo via STL Today, Mar 2017
Despite seeing some potential, Yakupov wasn't tenured a qualifying offer by the Blues this summer.  He then became an unrestricted free agent on July 1st, and signed with the Avs on the Fourth of July.
Nail Yakupov says he has zero plans of returning to Russia, says he fully expects to play in #NHL next season #stlblues

— Andy Strickland (@andystrickland) May 11, 2017
---
Playing Style and Usage:
How exactly did such a bright, promising young forward fall so quickly from grace?  Popular opinion is that his development stalled as his scoring dried up, but is that actually the truth?  What does Nail Yakupov bring to the ice?
While the "eye test" can provide valuable insights, it's difficult to separate where Yakupov's failures end and the Oiler's failures begin.  He played on four of the absolute worst rosters in recent memory, then was only given half a chance to redeem himself in St. Louis.
This context makes him a a particularly difficult player to predict.  The Avs aren't shaping up to be a contender this year (to put it mildly), but Yakupov could easily go from being a healthy scratch last season to a top line wing in October.  It's very difficult to tell how - and if - that will affect his numbers.
Even so, these stats help paint a more complete picture of the enigmatic forward; His strengths, his weaknesses, and his tendencies.  By looking at his game at a micro level, it should help inform where he might fit in the Avs' lineup.
Basic Stats
Note: EV = Even strength goals;  TSA = Total Shots Attempted, or individual Corsi
The first number that sticks out is his 17 goals in 48 games as a rookie.  Unfortunately, it was accompanied by 21-percent shooting, which was unsustainable.  In fact, excluding that season, Yakupov has shot at a 7.6-percent clip, which is below the league average of 8.2.  In '15-16 alone, his shooting was at 6.3 percent, which is dreadfully low for a player that averaged more than two shots per game.
To some extent, shooting percentage is a skill-based metric, but the difference between Sidney Crosby and the worst shooter in the league is still pretty small.  By and large, it fluctuates year to year due to nothing more than luck.  While Yakupov had largely worn out his welcome in Edmonton by '15-16, this unexpected cold streak probably speed up his exit out of town.
Moving forward, Yakupov will likely shoot in the seven- to nine-percent range.  It's possible he'll have another lucky season - he's certainly due for one - but if his shot rate stays the same and his shooting percentage is about normal, 15 goals is a reasonable expectation over a full season.
Advanced Stats
On the other end of the ice, Yakupov has a poor reputation when it comes to playing defense.  However, it's worth looking at his relative Corsi (CF% rel) column. This is how well he creates scoring chances and limits the opposition's in comparison to his teammates.
Early in his career, he was much worse than the other Oilers, but the number has steadily improved each season.  That's not to say that he should be played on a defensive line - he mostly starts his shifts in the offensive zone, and it would be ill advised to change that. But he's becoming a player that, on average, helps more than hurts his team at both ends of the ice.
It's also worth taking a look at his on-ice individual save percentage (oiSV%), which is how well his goalie has played when he's been on the ice.  If it was at league average, the number would read 91.7 percent.  Notice that it's often far below that mark.  While Yakupov makes some mistakes in his zone, his goalies haven't done a good job either.  This amplifies his gaffes and has no doubt added to the perception of Yakupov as a poor defensive player.
Mix that with his low shooting percentage and you get what's called PDO, which is a measure of luck.  By the end of the year, the number should even out to 100.  If it's below that mark, it often means a player had bad bounces on both offense and defense and that their skill level is likely a bit higher than what was perceived.  98.0 is considered a pretty low PDO, so Yakupov's scores in the past five seasons show high levels of poor luck.
Even if nothing else changes, good goaltending and shots that fail at the expected rate should have a noticeable impact on his game.  Overall, he's a good candidate for a bounce-back year on both ends of the ice.
Shot Heat Map
On the topic of shooting, this heat map shows where he most commonly tees up the puck.  To say he has no problem driving the net would be an understatement.  The majority of his shots come from the high danger area of the ice, which makes his low shooting percentages even more confounding.
Interestingly, his highest production year (2013) was when he averaged the furthest distance from the net.  Every year since that season, he's progressively moved closer and closer.  One has to wonder if he's a sniper who's being typecast more into a grinder's role.  What would happen if he was encouraged to spend more time shooting from the faceoff dot?
Playing Time vs. Points
Source: Micah Blake McCurdy/HockeyViz
Despite his net driving tendencies, when it comes to scoring, Yakupov was only given limited opportunity - even on the Oilers.  By ice time, he's never been given a first-line role, and has only seen second-line duty for three brief stints.  By and large, he's been given the minutes of a third-line player and produced third-line numbers.
It raises the question - if he was given more ice time, would it result in more goals?
HERO Ranking Chart
Categories in order: Ice Time per game, Goals per hour, First Assists per hour, Shots Generated per hour, and Shots Suppressed per hour.
Credit to Domenic Galamini/ownthepuck.blogspot.ca.
The answer is hazy.  Look at the first two bars in this chart.  In Yakupov's first and second seasons, he produced far more goals than should be expected given his ice time.  However, this came as a result of shooting 21 percent and 9 percent, so the phenomenon is unsurprising.
Unfortunately, his shots generated bar (4th one from left) is a bit more worrying.  HERO charts show where players rank in comparison to the rest of the league, and the fact that Yakupov, as a scoring winger, is lower than a 5 (average) isn't great.  Sure, part of it is playing on Oiler teams that rarely had the puck in the offensive zone, but it's still an area that could use improvement moving forward.
His shot suppression stats have also been sub-par.  It should be noted that these charts do not correct for being on bad teams, so his jump to a 3 in St. Louis may simply be due to better teammates.  Either way, it's safe to say that shot suppression is not one of Yakupov's strengths.
WOWY

Source: Micah Blake McCurdy/HockeyViz
Even though Yakupov's shot suppression numbers may have been  influenced by his team, his individual WOWY's ("With Or Without You" - how he impacted/was impacted by his teammates) don't tell us much.  Yakupov tends to be right in the middle of his cluster, and that cluster usually moves relative to the overall team's talent.  Some players do better with him, some do better without, and his numbers don't seem to be swayed much at all by who he's playing with.
Simply put, he's not a player that will make those around him significantly better, but he's also not one that will make them significantly worse.
Zone Starts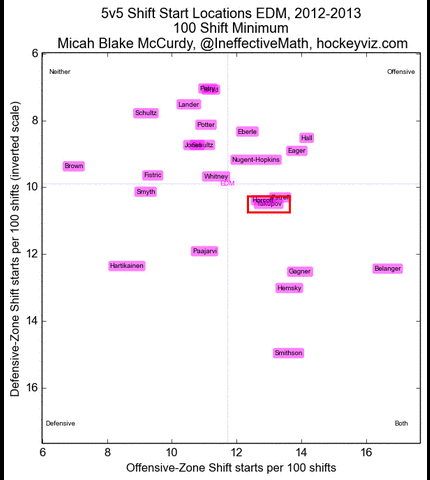 Source: Micah Blake McCurdy/HockeyViz
Along with WOWY, deployment is another important context stat.  Offensive players like Yakupov are often sheltered, or sent out on far more faceoffs in the offensive zone than in the defensive one.  It's one way coaches try to maximize the scoring talent of their roster, and it can highly sway almost all the other numbers.
Yakupov's zone start history has been an interesting journey.  He started out receiving a strong number of minutes in both zones during his rookie year, but into his sophomore and junior seasons, many of his offensive zone starts shifted to other players.  In the meantime, he maintained around the same number of starts on defense.  It wasn't a huge difference, but it did mean he was taking on a stronger defensive burden than many of his teammates while receiving less time on offense.
His ice time in general fell during his fourth year with Edmonton, but when he arrived in St. Louis, he was sheltered for the first time in his career.  Most of his shifts gave him an opportunity to score rather than be scored upon, but unfortunately, he wasn't given many shifts at all.
Heading into next year, it will be very interesting to see how head coach Jared Bednar chooses to play him.  For context, here is the Avs deployment chart from last season:
GAR & Player Cluster

Source: Sean Tierney/@ChartingHockey and Tableau
GAR, or goals above replacement, is a relatively new stat.  Developed by Dawson Sprigings (@DTMAboutHeart), it's hockey's equivalent to baseball's Wins Above Replacement (WAR).  It breaks apart each player's contributions in six categories:  FAC - Faceoffs; TAKE - penalties taken; DRAW - penalties drawn; PPO - power play offense; EVO - even strength offense; and EVD - even strength defense.  It then quantifies the player's overall impact, which allows for apples to apples comparisons between them.
As expected, Yakupov's GAR from last season was pretty small.  He took a few more penalties than ideal (the red bar), but his even strength offense and penalties drawn were beneficial.  Unfortunately, GAR data is only available for the '16-17 season, which isn't terribly useful for evaluating a player who only suited up for 40 contests.  Even so, one of Yakupov's comps was the Avs' JT Compher, which makes it fairly easy to see where his tiny bar fits into the Avs GAR chart.
Note that there are two instances of JT Compher, but the "J.T..COMPHER" appears in both the Yakupov and Avs chart for comparison.  The interactive chart is available here. 
What's far more fascinating is another new stat - clustered playing styles, developed by Ryan Stimson (@RK_Stimp) and based off data from the Passing Project/Corey Sznajder (@ShutDownLine).  Even though hockey archetypes like "Shooter" and "Playmaker" and "All-Around Defensemen" have been used for years, this data quantifies seven different areas and clusters players into types based on their values.
For forwards, there are four player types:  Balanced, Dependent, Playmaker, and Shooter.  Playmakers tend to have the best stats across the board, but have exceptional assist and passing numbers.  As implied, shooters tend to shoot the puck the most, and balanced types contribute fairly evenly in all seven categories.  Dependents have low stats across the board and tend to rely on linemates to create opportunities.  I've included the Avs player types where the data is available.
Yakupov is a Shooter, which next to Nathan MacKinnon's "Playmaker" designation, is the rarest of the types.  Keep in mind that it it isn't supposed to say how good he is, just that his greatest strength lies in creating shots.  Other shooters include stars like Vladimir Tarasenko and Phil Kessel to former Avs healthy scratch Jack Skille, so it's a very mixed bag.
Even so, Yakupov's overall numbers are promising.  His individual shots, primary shot assists, danger zone shots, overall shot contributions, and (interestingly) transition passing ranked in the top 15 percent of the league.  His other passing metrics were less stellar, but still in the green.
Since this metric relies on individuals watching each game manually to codify the data, only two seasons are available, and Yakupov's TOI has been fairly limited over that time.  It will be interesting to see if the data shifts after this year, but these numbers currently bode well for the Avs.
Power Play 


Given Yakupov's playing style, he seems custom designed to cash in big on the power play.  Unfortunately, that hasn't been the case.  Even during his rookie season where he posted 17 goals, only six came from the man advantage, and he ranked a surprisingly low seventh among Oilers forwards in power play time on ice per game.
As his career continued and his shooting percentage dropped, he received less and less power play time.  By the time he left Edmonton, eight other forwards played more on the man advantage than he did, and by the time he reached St. Louis, the more established roster players were given precedence.  It's not surprising he failed to score when he received under 12 minutes of PP time all last season.
For comparison, here's how each of his totals would stack up against last year's Avalanche.
Summary
So, what kind of a player is Yakupov?  He's a shooter who is willing to drive the net and doesn't have all that much impact - good or bad - anywhere else.
He needs to work on generating more shots, but he won't actively hurt a team on defense. His passing is okay, but it's much better when he's on the receiving end than asking him to set up his linemates.
Over his career, he's been extremely unlucky and given only limited minutes and opportunities.  He also addresses a stylistic weakness on the Avs and may help push one of the "dependent" players out of the lineup.
Is it what you'd hope for from a first overall selection?  No.  However, he's still capable of being a solid NHL player who just might thrive in an extended offensive role under the right conditions.
---
Fit with the Avs:
Yakupov the person.  Yakupov the player.  Yakupov the Av.
How do all three fit together in Colorado, and what do the player - and the team - need to focus on to make the relationship work?
1.  Patience
Even if the questions about Yakupov's hockey sense are baseless, he's still a player who's had six different coaches telling him six different things over the past five seasons.  His game has significantly improved over that time, but he still has some bad habits, especially when it comes to puck watching and being in position.
On the Avs, he won't be the only one.  Many players struggled to break out of Roy's system and find a fit in Bednar's last year, so there's a large amount of adjustment that still needs to be made.   Add in a sizeable class of rookies/near rookies like AJ Greer, JT Compher, and Tyson Jost, and this season is shaping up to have a developmental focus across the board.
Yakupov will make mistakes, perhaps even more than you'd expect from a sixth year player.  He was rushed into the NHL and played on absolutely miserable teams for a very long time.  Course correcting that development - if it can be done - will take time.  Patience will be the key.
2.  Earning Opportunity
At this point in his career, Yakupov is a reclamation project, and St. Louis showed that giving those types of players under 10 minutes a night every other game isn't going to benefit anyone.  Avs' GM Joe Sakic indicated that he believes Yakupov to be a top six player, so chances are decent that the winger will be given a tangible chance to succeed next year.
But how exactly that fits into the Avs roster is an altogether different question. Players like Landeskog, Rantanen, Wilson, Andrighetto, Greer, Nieto, Grimaldi, Comeau, and Colborne will all be competing for playing time on the wing, and Yakupov's skillset doesn't translate incredibly well to bottom six usage.
Luckily, top six spots are still wide open.  Yakupov has one of the highest talent ceilings of that group; however, he needs playing time he might not earn right away in order to realize it.  He also needs to be used in a very straight-forward "go here and shoot the puck" manner that might not fit the system, and he'll take offensive zone starts and power play time away from other players.
Training camp is going to be an incredibly important time for him.  If he can come out swinging and convince Coach Bednar to give him a chance, he'll receive the minutes, linemates, and tolerance for mistakes he needs to turn around his career.  If he doesn't and finds himself relegated to the third and fourth line, there's a much smaller probability he'll be able to make the necessary progress.
Either way, he'll need to show noted improvement throughout the year for the Avs - or any other NHL team - to consider extending him a contract offer in the summer.
Yakupov has a reputation as a hard-working player, but whether that will be enough to earn him a legitimate chance in Colorado remains to be seen.  Patience can only be stretched so far - he needs show results or he'll be passed on the depth chart.
3.  Chemistry and Consistency 
With that said, there are two keys to maximize Yakupov's efficiency on this roster:  1) finding a center he has chemistry with and 2) giving them frequent minutes together.
Yakupov doesn't anticipate the game very well, and he's not a great passer.  In order for him to use his shooting strengths, he needs to play with a linemate that can find him on the ice.  Even if that's not on the top line with MacKinnon, some semblance of stability with another forward - preferably a center - will give both players time to figure out each other's tendencies and anticipate the next play.  Without that, Yakupov will probably look as lost as he has been for the past five years.
Luckily, the Avs are very short on players who drive the net and very stacked on players who love to pass.  They're also talented down the middle with MacKinnon, Jost, Compher, Soderberg, and maybe Duchene slotted there for next season.  There should be ample opportunity for Yakupov to find the consistency that he's craved throughout his career.
To say Yakupov is one of the most chemistry dependent forwards in the NHL isn't much of a stretch.  Who he clicks with - and if it happens at all - will probably have the single largest impact on his season.
4.  Managed Expectations
Even if Yakupov does impress out of camp, earns Bednar's patience, and find symbiosis with a linemate, there is one aspect of his fit in Colorado that he can't control: External expectations.
At this point in his career, based on his numbers, he is a third liner.  He signed to a cheap, one-year, "show me" contract, and it's entirely possible this is his last NHL team.  If the front office, coaches, fans, or media in Denver are expecting him to score 30-plus goals and 60-plus points, chances are high they'll be disappointed.
Maybe he does have that talent, but he wasn't the Avs' first Overall pick.  He wasn't brought in to save the team.  If he scores 12-15 goals, it will be a really solid season for him.  Anything above that is gravy.
Acknowledging who he is instead of who he was hoped to be moves the goal posts of success into a reasonable and reachable zone.   Escaping the pressure cooker of the Canadian hockey media and 1st Overall expectations might just allow him to breathe and concentrate strictly on his game as well.
5.  A Fit Off the Ice
On that note, the last critical area that needs to work out for him is his life away from the arena.  Just like in every career, having a good work/life balance impacts job performance, especially for individuals - like Yakupov - who wear their emotions on their sleeve.
Fortunately, he'll be playing on a roster with three other Russians - Nikita Zadorov, Semyon Varlamov, and Andrei Mironov.  This built-in support system should help him settle into the new city and environment.  He'll also have the recently hired Ray Bennett around, who was one of his assistant coaches in St. Louis last year.
Yakupov should also benefit from suiting up in a small, non-hockey driven market. The organization is in a developmental phase and unlikely to make the playoffs, but the ownership and arena situation are stable, fans still show up, and the media presence is relatively small and less likely to be perturbed by something trivial like celebrating too much.  All in all, it's a very forgiving place to attempt to jumpstart a career.
Final Thoughts
No one knows if this gamble will pay off. For the Avs, striking gold on a player with Yakupov's upside would go a far way to returning the team to contention.  For Yakupov, no club in the league can offer a better opportunity to earn top-six minutes and reset his career.
If it works out, it's a match made in hockey heaven.  If it doesn't, Yakupov will likely be forced to return to the KHL next summer, and the Avs will be out less than a million dollars.
It would be a another disappointing footnote in an tragic tale, but hey - that's sports.  Sometimes promising players don't work out, and sometimes the underdogs surprise.
Which category the '17-18 Nail Yakupov fits into is yet to be seen.  Either way, it should be an exciting ride.


Not subscribed yet? Click below to for full access:

Subscribe