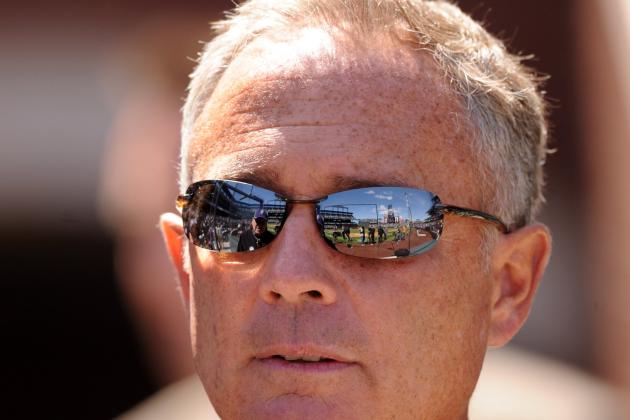 Time for Dan O'Dowd to be thrown off of the ship.
Fire up the bus, the Colorado Rockies excuse tour is about to begin again.
Patrick Saunders of the Denver Post continues his beatdown of the Rockies front office in several pieces over the past few weeks. However, he highlighted exactly where the frustration arises from Rockies fans in his piece on Sunday morning.
Saunders quotes Walt Weiss saying that he would be completely happy with the exact same team on Opening Day 2015 as he had this season.

What Weiss is saying isn't that crazy. This team has very good talent. They shouldn't be anywhere near the failure level that they currently are at. The pitching staff should have been better and the lineup should be more consistent. However, the words of Walt Weiss hit a nerve with every frustrated Rockies fan out there.
Weiss saying that the Rockies don't need to make any changes underscores the complete lack of understanding that this entire front office seems to have about this team. Is there talent? Absolutely. Is this team good enough to compete for a playoff spot if everything aligns properly? Possibly.
However, there is a significant problem with that statement. That comment suggests, once again, that there was nothing wrong with the makeup of this team. It says that everything was good enough with the Rockies, but, just like in the past few seasons, they were simply snake-bit by injuries. It suggests that it was just bad luck once again, and maybe next year, if everyone stays healthy, if everything goes like they planned, the Rockies might, they just might, win more games than they lose.
One year of blaming injuries is fine. However, the Rockies should have waited for this season before pulling that excuse out of their arsenal. The craziness of a manager saying that, and even coming close to believing that, with a team that is almost certainly going to lose over 100 games is downright unacceptable.
What it says is that the fans aren't smart enough to realize that this franchise is built with no backup plan. There is no other option if a guy goes down. In fact, even the front line is suspect from the beginning, yet that is supposed to be ignored.
Keep in mind, this was a team that had both Franklin Morales and Juan Nicasio in the Opening Day starting rotation. Is that good enough to go into 2015 with? Apparently Walt Weiss thinks so. Remember, it was the injuries that caused the 2014 campaign to go south.
Of course Weiss is in the midst of a miserable season, but he has to play politics. He can't say anything bad about any member of his team because they still have baseball left to be played, whether it means anything or not. He can't talk about guys who he hopes the front office finds new homes for in November and December, but he also doesn't have to patronize fans by insulting their intelligence and pretending that this roster doesn't need an extreme makeover.
What Weiss' statement, along with what Bill Geivett was quoted about earlier this week suggest is something simple. The Rockies know that their fans are mad, so instead of talking about changing the culture of the clubhouse, and how the losing is a pure embarrassment, they are firing up the old excuse-making machine. It is time to persuade Rockies fans into feeling like April wasn't the fluke, but the rest of the season was. It is time for them to start begging fans to remember all of the no-name pitchers who started games because the poor-old-Rockies had a ton of fluke injuries.
If the Rockies decided to only make minor changes in the offseason, they are going to be in for a huge surprise. This fan base, the one that has so passionately called the Rockies their team since 1993, the fan base who chooses to forgive over-and-over because, well, Colorado has a Major League Baseball team, are sick of the excuses. The honeymoon is over. There is no more grace period. There is no more pointing back to the glory times of 2007 and 2009 when the Rockies made magical runs to the playoffs. Fans aren't going to trust the Rockies again.
This roster needs some major work. This team needs to be overhauled, and to suggest that the Rockies could go into Opening Day 2015 with nearly the entire roster remaining untouched and that being alright with the manager is simply ridiculous. This is a team that needs to be gutted. This is a team that should have been wheeling and dealing at the trade deadline doing anything that they could have done to bring in new prospects.
The Rockies ownership may believe that a few small changes to the structure of the front office will appease the fans and make them feel good about things. However, this fan base simply is not going to be satisfied until the name Dan O'Dowd and the word "fired" are in the same sentence. There is no more moving the deck chairs around on the Titanic. The ship has taken on too much water. It is time to abandon it and find a new means of travel. There is no more denying that amount of water that this front office has allowed this ship to take on. It is time to throw the captain overboard and look for someone new.
If the Rockies front office chooses to revive the excuse tour in earnest, they may be really surprised at the amount of disdain that will be thrust in their direction.
Follow me on Twitter @RockiesReview. Like me on Facebook, search "Rockies Review"